The Sopranos
55min | Crime, Drama | TV Series (1999–2007)
New Jersey mob boss Tony Soprano deals with personal and professional issues in his home and business life that affect his mental state, leading him to seek professional psychiatric counseling.
Creator: David Chase

JAMES GANDOLFINI as Tony Soprano
The pressures of running 'the family' have taken their toll on Tony. As the acting boss of the DiMeo family, Anthony Soprano heads the most powerful criminal organization in New Jersey. A second-generation wise guy, he's the son of the late Johnny Boy Soprano, a DiMeo capo who brought his boy into his profession and showed him the ropes. After Johnny's death, Tony was mentored by his old man's closest associates, Hesh Rabkin, Jackie Aprile, and Pussy Bonpensiero, as well as Johnny's older brother, Corrado "Junior" Soprano.
Tony was born in 1959 and grew up in Newark and West Orange, New Jersey. Violence was a staple of his childhood: he once witnessed his dad and uncle viciously beating a guy for being late with a numbers payment. Another time he watched Johnny Boy amputate a debtor's finger with a meat cleaver. And though he never struck his two daughters, when Tony transgressed his father sent him flying. Tony's mother, Livia, was busy doling out emotional beatings. Depressive and paranoid, Livia was incapable of affection — she once threatened to plunge a fork into her son's eye — and constantly told Tony he'd never amount to anything.
It should come as no surprise then that Tony ended up in therapy.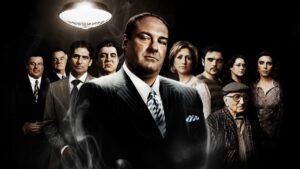 EDIE FALCO as Carmela Soprano
Carmela DeAngelis first laid eyes on her future husband in high school, where she and Tony Soprano appeared to be worlds apart from each other. Whereas Tony was an uninspired student and outsider, Carmela was studious and popular. Carmela had her sights set on college; Tony seemed destined for a life in the New Jersey rackets. That these two opposites would attract — let alone marry and build a life together — might, at first, seem surprising. But on closer examination, they almost seem made for each other.
Carmela was acquainted with gangster life long before she took her first ride in Tony's Trans Am. One of her cousins was a mob tough who was gunned down in front of his own house. All things considered, it's not so surprising that Carmela quit her studies in Business Administration at Montclair State University and became Mrs. Anthony Soprano.
As wife of Tony, and mother of Meadow and Anthony Jr. she is torn between the perks (McMansion, furs, jewelry) and pitfalls (Tony's affairs, FBI raids, murdered relatives) of being First Lady of NJ mob.

LORRAINE BRACCO as Dr. Jennifer Melfi
"Two years ago I thought RICO was a relative of his."
Dr. Jennifer Melfi is probably the last person anyone would expect to be associated with organized crime. Her private life is unassuming; she's divorced with a son who attends Bard College. Professionally, she is a respected psychiatrist in private practice. One day, however, she opened the door to her waiting room and came face to face with la cosa nostra personified: Tony Soprano. Referred by his neighbor, the notorious capo was seeking treatment for anxiety attacks. That meeting was a seminal event in Melfi's life — one that she often wishes had never happened.
Though she's frustrated with his inability to tell her things, in the end, Dr. Melfi may be the only person who truly knows Tony Soprano.

MICHAEL IMPERIOLI as Christopher Moltisanti
Christopher Moltisanti is Tony's nephew and Carmela's first cousin. His father Dickie Moltisanti was something of a mentor to the youthful Tony. So when the senior Moltisanti was shot to death, Tony, in turn, took Christopher under his wing. As Christopher remembers very little of his father — he was still in diapers when Dickie was killed — Tony's the closest thing he's ever had to a paternal figure.
Given his violent and addictive impulses, Christopher has a tough road to make it from cugine to made man.

DOMINIC CHIANESE as Corrado "Junior" Soprano
"You choose this life, it comes with responsibilities…Teddy Roosevelt gave an entire speech once with a bullet lodged in his chest. Some things are a matter of duty."
Corrado Soprano, Jr., AKA Uncle Junior, is the son of Corrado and Mariangela D'Agostino Soprano, Italian immigrants who came over from the town of Ariano in 1911. Junior had two younger brothers: Giovanni (AKA Johnny Boy), who was Tony's father and Ercoli (AKA Eckley), who was mentally retarded and spent most of his life in an institution. The senior Corrado was a stonemason, but Junior and Johnny Boy had no intention of following in his footsteps; they dropped out of high school, quickly affiliating themselves with the DiMeo crime family.
Though Junior was highly competitive with his little brother, he always had a deep affection for his nephew. Junior has no children of his own — he's never been married — and he spent a lot of quality time with Tony while he was growing up.

STEVEN VAN ZANDT as Silvio Dante
Silvio Dante didn't always want to be a mobster. His dream as a youth was to make it big as a singer. But while the spirit was willing, the pipes were weak; Silvio ended up managing topless dancers instead. He's operated several clubs in Asbury Park and currently owns the Bada Bing, where he regularly regales his associates with a legendary impression of Al Pacino. Silvio's a family man in the literal sense as well: he and his wife, Gabriella have a teenage daughter, Heather, a soccer star her father refers to as "the principessa."
Silvio's function in the Soprano crew is as consigliere to Tony, a task to which he's well suited. Like the other members of Tony's inner circle, he's been around the business his entire life. Unlike Tony's other confidantes, however, Silvio is not a slave to his impulses.

TONY SIRICO as Paulie Walnuts
Peter Paul Gualtieri, arguably the most meticulously coiffed and manicured capo in the Soprano crew, was something of a child prodigy. He first displayed the skills he'd utilize in his chosen profession at the tender age of nine: while other kids were dreaming of wielding a bat like the Mick, Paulie was deploying one on a schoolmate's skull. In and out of juvenile correctional facilities for the next several years, Paulie eventually dropped out of school altogether; at seventeen, he became an enforcer for Johnny Boy Soprano. Thereafter his movement up the ranks was steady, albeit punctuated by the occasional prison stretch and an army hitch abbreviated by a Section 8.
Though he's had his fair share of goomars, the only Mrs. Gualtieri has been Nucci, Paulie's mother — on whom he dotes with the reverence of a true son of Italy.

JAMIE-LYNN SIGLER as Meadow Soprano
Tony and Carmela's firstborn: pretty, bright, and talented, always an honor student. Meadow is tough and clear-eyed about her father's profession. She figured out at an early age that Tony wasn't really in the non-putrescable waste business. Meadow's opinion had always been that her father is no worse than the "solid citizens" who work as lawyers for tobacco companies. They may not always like her boyfriends or her temper tantrums, but she's their princess.

ROBERT ILER as Anthony Soprano, Jr.
"You know what really pisses me off about my dad? He did all these really great things, then, before he was my dad…now he's just an asshole."
Tony's second born and namesake, Anthony Soprano, Jr. is capable of causing his father more agita than the FBI's entire New Jersey Field Office. A below-average student who gets into above-average trouble. No way will he follow in Tony's footsteps; he couldn't fill them.

DREA DE MATTEO as Adriana La Cerva
"Oh, yeah. Be one of those wives like Carmela Soprano…breast feed a bunch of rugrats, then spend the rest of your life at the gym, just you and your stretch marks."
Christopher's fiancée and a mobster's dream girl: smart, engaging and a body that could star at the Bada Bing. Jackie and Richie Aprile's niece knows what it is to be married to the mob, so she goes into it with her eyes wide open, eager to embrace the lifestyle.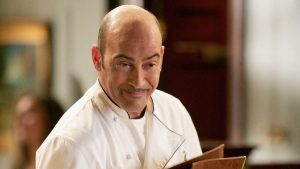 JOHN VENTIMIGLIA as Artie Bucco
Artie Bucco is Tony's one close civilian friend. They've known each since high school, and when Tony went into his family's business, so did Artie. He's the owner and chef of the Nuovo (New) Vesuvio Restaurant, Tony's crew's favorite eatery.
Artie is fully aware of what Tony does for a living, and he's both attracted and repelled by it. He enjoys the cachet of hanging out with mobsters, and his affection for Tony is genuine.

VINCE CURATOLA as Johnny "Sack" Sacramoni
The urbane boss of the New York family, Johnny Sack is known for his sharp intellect and calm demeanor. He's a still-waters-run-deep guy who makes it a point to keep tabs on anything that could affect his business and keep his innermost thoughts to himself. Those qualities have made him a successful capo — and someone you definitely don't want as an enemy.

VINCENT PASTORE as Sal "Big Pussy" Bonpensiero
"Sometimes you gotta do things you don't want to…If you're lookin' for a purpose in life, doin' what's right is your purpose."
The big brother Tony never had. Heavy-set and gregarious, he values family above all else and has a special knack with kids. That doesn't mean he's a pushover. He made his bones with Johnny Boy Soprano's crew, and rumor has it he acquired his nickname because he was once a cat burglar. (The "Big" was appended to distinguish him from another wise guy with a feline moniker, Little Pussy Malenga.)

KATHRINE NARDUCCI as Charmaine Bucco
Charmaine Bucco is Artie Bucco's wife. She and Carmela had been good friends since high school.

SHARON ANGELA as Rosalie Aprile
The quintessential mob woman, Rosalie Aprile is smoky-voiced and tough talking, and always immaculately dressed, coiffed and manicured. She grew up around "the life" and, like most females in that world, was married at a young age to a wise guy wannabe.

JERRY ADLER as Hesh Rabkin
Because he's Jewish he can never be a made man, but in every other sense Herman "Hesh" Rabkin is an important part of Tony's crew. He was a trusted advisor of Tony's father, and Tony seeks his counsel as well.

NANCY MARCHAND as Livia Soprano
Cagey, manipulative and possessing an encyclopedic memory of every slight she ever suffered, Livia Pollio Soprano is probably the most important person in Tony's life. She was born in Providence, Rhode Island, to Faustino (AKA Augie) and Teresa Pollio, Italian immigrants from Avellino. Livia's childhood was poverty-stricken and miserable, and she spent her adult life punishing everyone for it.
Marriage to the tough, charismatic Johnny Boy Soprano was Livia's ticket out of her parents' house. But married life, however, was not happy ever after. Livia wasn't particularly interested in housework and as for motherhood, her take on it was that babies were "animals…no different from dogs." Although Johnny Boy was a good provider, in Livia's estimation he was never good enough. She constantly pressured him to earn more, but when he came to her with a plan to move the family to Reno in order to pursue a new business opportunity — something he wanted very much — she quickly put the kibosh on it. Although Livia belittled Johnny Boy practically every day of his life, when he died she instantly canonized him.
Old age didn't mellow Livia — if anything, it's made her more suspicious and abusive of everyone around her.

STEVEN R. SCHIRRIPA as Bobby "Bacala" Baccalieri
Robert Baccalieri, Jr., AKA Bobby Bacala, is a stalwart soldier in the Soprano organization. "Bacala" is salted cod, and at first glance, Bobby can appear to be a fish out of water. He's quiet and sweet tempered, and even among a bunch of guys sporting pasta bellies, his stands out.
But Bobby is loyal to his deeply buried core, and doesn't shirk the physical requirements of his job.
📆 Winter 2023 TV Schedule + Streaming Shows Release Dates Calendar
When does your favorite show come back on? Check it out on our winter release dates guide.
January 2023 Release Dates are here!