It's Always Sunny in Philadelphia
22min | Comedy | TV Series (2005– )
Five friends with big egos and slightly arrogant attitudes are the proprietors of an Irish pub in Philadelphia.
Creators: Glenn Howerton, Rob McElhenney

Charlie Day as Charlie Kelly
Charlie is co-owner at Paddy's and a childhood friend of Mac and Dennis. He is also Frank's roommate. Charlie is the janitor at the pub and an illiterate alcoholic and huffer who suffers from deep psychological problems and lives in squalor. Charlie's intentions are often pure but his plans are almost always foiled. Charlie has anger management issues and often screams to get his point across.

Glenn Howerton as Dennis Reynolds
Dennis is a co-owner of Paddy's and is Deandra's twin brother. Dennis is extremely narcissistic, selfish, histrionic and vain perpetuated by his Ivy League education at the University of Pennsylvania. His sense of self-worth is entirely dependent on what others think of his appearance and he often suggests the best way to sleep with a woman is to make her think she may get raped.

Rob McElhenney as Mac
Mac is Charlie Kelly's childhood friend and Dennis's high school friend and later roommate. He is a co-owner of Paddy's and its bouncer. He brags about his incredible hand-to-hand combat skills, though it is quite obvious he lacks any real skill or even a sense of proper athletic balance.

Kaitlin Olson as Dee Reynolds
Dee is Dennis' twin sister, the main bartender at Paddy's and the show's main female character. She is often subject to ridicule from the rest of The Gang. Dee dreams of becoming an actress even though she has no acting experience and lacks talent. Like her brother, Dee is very egocentric.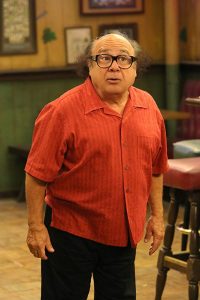 Danny DeVito as Frank Reynolds
Frank is the legal (but not biological) father of twins Dennis and Dee, and possibly the biological father of his roommate Charlie. He used to be a successful businessman with a long history of illegal operations and dealings with sordid characters. Though he has the money to live elsewhere, he chooses to live in squalor with Charlie.
📆 Spring 2023 TV Schedule + Streaming Shows Release Dates Calendar
When does your favorite show come back on? Check it out on our spring release dates guide.
March 2023 Release Dates are here!