Al Swearengen
PLAYED BY IAN MCSHANE
The proprietor of The Gem Saloon was six months ahead of everyone else in Deadwood, and he runs the town like a corrupt riverboat captain. He knows every move that every person in town makes, anticipates problems and eliminates them. His girls aren't exactly the class of the town, but he controls the most successful bar and whorehouse in all of Deadwood—bringing in $5,000 a day in 1876—and anybody that threatens his sources of income may well end up fed to Mr. Wu's pigs.
Seth Bullock
PLAYED BY IAN MCSHANE TIMOTHY OLYPHANT
A native of Ontario and the son of a stern British sergeant-major, Seth Bullock left home for good at the age of 16 and ended up in Montana during the silver strikes of the 1860s. A natural leader, he held a number of elected positions in his early 20s and was eventually appointed Sheriff of Montana Territory.
Having heard of the big strikes in the Black Hills, Bullock has made his way to Deadwood—not to prospect, but to open up a hardware franchise with his business partner and friend Sol Star. Veterans of frontier living, the two are undaunted by Deadwood's lawless and dangerous nature. But Bullock has put law-enforcement behind him, and fully intends to make his way as a businessman.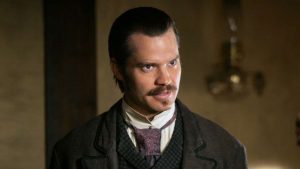 Alma Garret
PLAYED BY MOLLY PARKER
Thirty and beautiful, Alma Garret married after the panic of 1873 to salvage her father's strained finances. Preferring a fool's errand to the circumstances of New York society, she came west with her husband, Brom, to prospect, a woolly situation she softened with liberal use of laudanum.
Sol Star
PLAYED BY JOHN HAWKES
An apostle of the private mercenary interest as an organizing principle of behavior, Sol Star is a natural entrepreneur and one of the town's new fathers. He is also the life-long friend of Seth Bullock, and perhaps the only person Bullock confides in.
It was Star who urged Seth Bullock to head out to the new camp in Deadwood. As Bullock's partner in the hardware business, Sol handles most of the financial responsibilities of the endeavor, and his enthusiasm and vigor complement perfectly Bullock's decorum and self-possession.
Trixie
PLAYED BY PAULA MALCOMSON
One of the best known features of The Gem is its selection of whores, and Trixie is Swearengen's best girl. Although he has no problems using the back of his hand to keep her in line, he also knows that she's a valuable asset. Of course, whenever Swearengen gets that particular itch, he knows that Trixie is the girl to go to.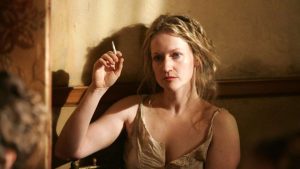 E.B. Farnum
PLAYED BY WILLIAM SANDERSON
Eustace Bailey Farnum runs the Grand Central hotel, one of the main hubs of Deadwood. Just about every visitor to Deadwood ends up in Farnum's establishment at one time or another.
Appointed by the town's fathers as the default mayor – no one else wanted the job-Farnum has grandiose ideas about his prospects. The hotelier also has connections to Swearengen and is often involved in Al's swindles and schemes, but he has a difficult time getting Swearengen to take him seriously.
Ellsworth
PLAYED BY JIM BEAVER
Ellsworth has spent most of his days prospecting for gold in one part of the country or another, and has managed to scrounge enough, apparently, to cover for his appetite for whores and booze. Despite his somewhat disheveled appearance, Ellsworth is no fool, and he knows exactly how dangerous Swearengen can be; he knows to keep quiet about witnessing Brom Garret's murder. Still, at Bullock's urging, he accepts responsibility for overseeing Alma Garret's claim and proves himself to be extremely knowledgeable about mining. He is also fiercely loyal to Alma and Sofia.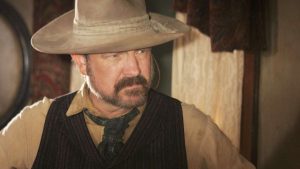 Dan Dority
PLAYED BY W. EARL BROWN
If Al Swearengen has some dirty work to be done, he knows that he can count on enforcer Dan Dority. Whether it's working in The Gem or killing off somebody that needs it, Dority can fill just about any role that Swearengen can think up.
Johnny Burns
PLAYED BY SEAN BRIDGERS
One of Swearengen's crew, the young and ambitious Johnny Burns is looking to stay in his boss' favor, always gunning for a promotion. Obviously in awe of Swearengen, the curly haired Burns is constantly learning the tricks of the trade from him. With the Gem Saloon as his classroom, young Johnny has much to learn.
Silas Adams
PLAYED BY TITUS WELLIVER
Originally introduced to Al Swearengen as the bagman for the corrupt territorial magistrate, Clagett, Adams has been recruited into Swearengen's operation.
📆 Summer 2022 TV Schedule + Streaming Shows Release Dates Calendar
When does your favorite summer show come back on? Check it out on our summer-spring 2022 release dates guide.