The Witcher Cast and Characters information on Netflix; Who is Henry Cavill, who is playing Yennefer and where do you know Jaskier from?
Find all your answers here.
---
Henry Cavill as Geralt of Rivia
Henry Cavill plays "Geralt of Rivia" – the main character of the Witcher series. He is most famous for his main role in "Man of Steel" movies.
In the series, Geralt of Rivia is a witcher. They are a kind of mutant creatures and their job is hunting creatures. Most of the people don't like witchers. For this reason, they don't have a chance to be happy. But Geralt, despite his harsh look, is one of the good ones. Despite the exclusion by the people, he still believes in the goodness inside humans.
---
Freya Allan as Ciri
Freya Allan is playing the second key character "Princess Cirilia" or "Ciri" in the series. She is the princess of Crida and she is very special.
She didn't experience the real world, because she was always protected by the Queen. Maybe that's why she always wants to escape her royal life.
Her search for the Witcher begins after one night she loses all her family. Her grandmother tells her to find Geralt in her last words. And she escapes her royal life to find the witcher.
---
Joey Batey as Jaskier
Joey Batey plays Jaskier in The Witcher. He is a good friend of Geralt in the series. He is a bard and he has been a faithful friend of Geralt since he met him. He even saved him from some troubles. But generally, that is the other way around.
---
Anya Chalotra as Yennefer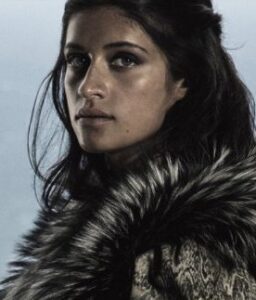 Anya Chalotra plays "Yennefer of Vengerberg" in The Witcher. She is an English actress primarily known for this series. Yennefer is the girlfriend of Geralt and she is a very strong sorceress.
She was sold to a magician for 4 coins by her father, because of her ugly look. After joining the magic school, she learns very strong spells and transforms her body into a beauty. She always gets what she wants.
---
MyAnna Buring as Tissaia

---
Jodhi May as Queen Calanthe
Jodhi May plays "Queen Calanthe" in the series. She is the queen of Cintra, mother of Pavetta and grandmother of "Ciri". She raised princess Ciri after her parents died. She sends Ciri on her quest to find Geralt after they lose their battle with the Nilfgaard.
Fall 2023 TV Schedule + Streaming Shows Release Dates Calendar
When does your favorite show come back on? Check it out on our fall release dates guide.
December 2023 Release Dates are here!