1. William H. Macy – Frank Gallagher
A hopeless alcoholic and troublemaker, Frank is usually shown passed out drunk on the floors around the house when he's not at the bar spending what little money the family has. Frank is careless, selfish and completely narcissistic as he hasn't done anything in his life but collect disability checks and get intoxicated. He is also abusive, conniving, being in Lip's and his own words, a "total f*cking asshole." He provides next to nothing in the way of parenting or financial support and usually serves as one of the main headaches in the Gallagher household. Frank has also shown that he would give up his own children if it meant he could get booze (or money to get booze).
2. Emmy Rossum – Fiona Gallagher
Fiona Gallagher is a central character and in the difficult position of being the oldest Gallagher child. Since she was 16 years old and her mother walked out, Fiona has taken care of her siblings and dysfunctional, alcoholic father, Frank. Despite how stressful and chaotic her life is, Fiona meets every challenge head on. Her siblings and father often turn to her when they get into trouble with the law.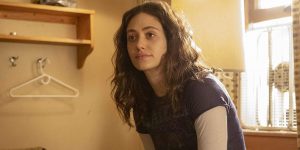 3. Jeremy Allen White – Phillip "Lip" Gallagher
He is the second-eldest Gallagher child and the most academic. He is a straight-A student with a 4.6 GPA. While he possesses above average intelligence and excellent mechanical skills, he deliberately wastes time acting like the rest of the people in his town. He uses his intelligence to make money for his family, such as taking the SATs for other students or avoiding the cops when selling beer and marijuana from an ice cream truck. Despite his apparent genius, he has terrible judgement and is frequently shown smoking cigarettes and weed, having unprotected sex with multiple women, and drinking copious amounts of alcohol.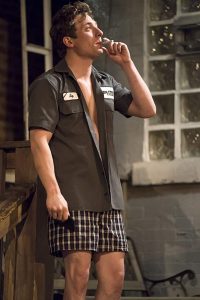 4. Cameron Monaghan – Ian Gallagher
5. Emma Kenney – Debbie Gallagher
She is the third youngest Gallagher sibling. Although she tries to act hard and comes off as a tough girl with a spunky attitude, she is known for being helpful with good intentions and has a caring heart. She's willing to bring her baby brother to school for show and tell when there's no one else to watch him, place a pillow under her father's head when he's passed out on the floor, and collect money for charity year round — only some of which she keeps for herself. She is one of the only Gallagher children to still be hopeful of Frank eventually behaving like a real dad, even with Frank's continued mishaps. He had inadvertently crushed a replica version of Abraham Lincoln's home made out of popsicle sticks, a school project Debbie was creating, she grabbed a large bag of soap and numerously hits Frank with it after she hears him call it a "piece of shit". This seems to be the thing that breaks Debbie's thoughts of Frank being a nice wonderful person who just wants a chance, she then realizes he isn't a good father, and is only one when it suits him, Frank was kicked out while Debbie wanted be alone in her room.
6. Ethan Cutkosky – Carl Gallagher
He is the second youngest Gallagher child. When he was younger, he shared a room with his older brothers Lip and Ian.

7. Shanola Hampton – Veronica Fisher
She's one half of the Gallaghers' closest neighbors, the other half being husband Kev. Sharp and sexy, Veronica is usually willing to lend a hand, go dancing with best friend Fiona or party with Frank. She is the sister of pyromaniac Marty and the daughter of Carol.
8. Steve Howey – Kevin "Kev" Ball
He is also the bartender at Frank's favorite bar and the Gallaghers' neighbor and friend along with his long term girlfriend Veronica.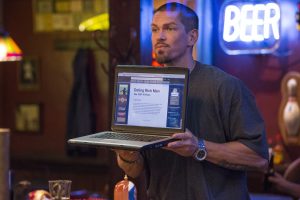 📆 Spring 2023 TV Schedule + Streaming Shows Release Dates Calendar
When does your favorite show come back on? Check it out on our spring release dates guide.
March 2023 Release Dates are here!