Betting big on Japanese content and storytelling, Netflix today celebrated an ambitious slate of projects and collaborations with top local creators and talent at the Netflix Japan Festival 2021, proudly expanding on the slate of 90 Japanese Netflix titles already available to date.
Entertaining both audiences in Japan, which continues to be one of the most important countries for the growth of Netflix, as well as fans of Japanese culture around the world, Netflix is committed to bringing best in class stories and creators from Japan to audiences everywhere. This includes an ever growing list of renowned filmmakers like Yoshihiro Mori (We Couldn't Become Adults), Hitori Gekidan (Asakusa Kid), as well as with renowned animated film studios like Studio Colorido (A Whisker Away, Drifting Home) giving visionary talent an opportunity to share their inspiring stories with fans everywhere. In addition to the global success of Anime, Netflix is betting big on live action and animated feature films originating from Japan with an increasingly diverse slate and roster of creators joining forces. Kaata Sakamoto, Netflix, Vice President, Content, Japan said "Our next big bet is expanding feature films. Japan is home to extraordinary talent who shape the cinematic history of the world. With creators as diverse as the ones we work with today, we're excited to play a role in the history of great local talent finding their voices and delivering them to audiences everywhere".Netflix sees a growing interest in Japanese content by viewers everywhere, with Japanese titles like The Seven Deadly Sins, Record of Ragnarok , Ruroni Kenshin: The Beginning and more all reaching the Top 10 in over 50 countries in addition to over 120 million households that have chosen to watch at least one anime title — more than double the number of households in 2018.
See below for highlights and announcements: During Day 1 of the Netflix Festival Japan 2021 event, Netflix announced The Seven Deadly Sins: Grudge of Edinburgh (part1 premiering 2022), a spin-off anime film project to the hugely successful manga and anime of the same name created by Nakaba Suzuki, who will also pen the upcoming sequel. Another hit series making a return will be Kakegurui Twin (premiering August 2022), a prequel to the hit Kakeguri, that tells the story of Mary Saotome's gambling feats one year before Yumeko Jabami transferred to her school. Additional newly announced titles include TIGER & BUNNY 2 (premiering April 2022), 2 new titles from the successful Detective Conan spin-off (Coming soon) and The Orbital Children (premiering January 28, 2021). The upcoming anime will join previously announced projects like fan favorite JoJo's Bizarre Adventure STONE OCEAN, which was introduced by a special music performance by Yugo Kanno as well as voice cast guests Fairouz Ai, Mutsumi Tamura & Mariya Ise who proudly revealed the December 1 premiere date (Episodes 1-12), Super Crooks (premiering November 25) which was introduced during a special panel with voice talent superstar Kenjiro Tsuda, who was also announced to be the main cast for Thermae Romae Novae (premiering 2022) .See below for additional anime news and highlights.
LOOK AHEAD OF EVENTS ON LIVE ACTION DAY 2 On Day 2 the Netflix Festival Japan 2021 will continue with 6 star-studded panels for upcoming Japanese films and series as well as International titles including Hollywood blockbuster Red Notice. Netflix is set to introduce upcoming Japanese films We Couldn't Become Adults (now streaming) and the long-awaited autobiographical tale Asakusa Kid (premiering December 9), as well as additional projects set for release in 2022, including the Netflix series The Journalist (premiering January 13, 2022), Fishbowl Wives (premiering 2022), He's Expecting (premiering 2022), and First Love (premiering 2022), as well as the Netflix film Love Like the Falling Petals (premiering March 24, 2022).
NETFLIX ANIME TITLES: Newly announced projects, news and released assets:
After an accident while on a drive with her sweetheart, Jolyne Cujoh falls into a trap and is sentenced to fifteen years at the state-run maximum-security correctional facility Green Dolphin Street Prison – AKA "the Aquarium." On the verge of despair, she receives a pendant from her father that causes a mysterious power to awaken inside of her. "There are things in this world that are more terrifying than death, and what's happening in this prison is definitely one of them." A message from a mysterious boy who appears before Jolyne, inexplicable events that occur one after another, the horrifying truth told to her by her father when he comes to visit, and the name DIO… Will Jolyne ultimately be set free from this stone ocean they call a prison? The final battle to end the century-long, fateful confrontations between the Joestar family and DIO begins!
Staff: Original manga by Hirohiko Araki Chief Director: Kenichi Suzuki Director: Toshiyuki Kato Series Composition: Yasuko Kobayashi Character Design: Masanori Shino Designer of the Stand: Shunichi Ishimoto Sound Director: Yoshikazu Iwanami Music: Yugo Kanno Animation Production: David production Inc.
Cast (Japanese): Jolyne Cujoh: Fairouz Ai Ermes Costello: Mutsumi Tamura F.F.: Mariya Ise Emporio Alnino: Atsumi Tanezaki Weather Forecast: Yuichiro Umehara Narciso Anastasia: Daisuke Namikawa Jotaro Kujo: Daisuke Ono
The Seven Deadly Sins: Grudge of Edinburgh – Global Premiere Date: Part 1 Coming in 2022 www.netflix.com/SevenDeadlySinsGrudgeofEdinburgh-Part1
With over 37 million copies sold and winning in the children's category of the 39th Kodansha Manga Award, the mega-hit The Seven Deadly Sins (original work: Nakaba Suzuki) is receiving a spin-off anime film. This film will feature an original story by Suzuki. Split into two parts, the story will follow Tristan, the son of The Seven Deadly Sins protagonists Meliodas and Elizabeth. Tristan inherits the power of the Goddess Clan and can heal people's wounds and injuries, but he often ends up hurting others due to his inability to control his Demon Clan power. To protect his family, Tristan heads to Edinburgh Castle and meets a host of new friends along the way.
Staff: Based on the manga The Seven Deadly Sins (published by Kodansha in Weekly Shonen Magazine) by Nakaba Suzuki Supervising Director: Noriyuki Abe Director: Bob Shirahata Screenplay: Rintaro Ikeda Production Company: Alfred Imageworks × Marvy Jack
Kakegurui Twin – Global Premiere Date: August 2022 www.netflix.com/kakegurui-twin
This series tells the story of Mary Saotome's gambling feats one year before Yumeko Jabami transferred to her school. The story begins with Mary Saotome, a normal girl, entering the academy.
Staff: Based on the manga Kakegurui Twin by Homura Kawamoto and Kei Saik (published in the monthly magazine Gan Gan JOKER by SQUARE ENIX Animation Production: MAPPA Cast (Japanese): Mary Saotome – Minami Tanaka
he Orbital Children – Global Premiere Date: January 28, 2022 www.netflix.com/orbital-children
The story begins in the year 2045, when AI has advanced and anyone can travel into space. Children born on the moon and children from Earth who are on a trip to space meet at the Japanese-built Anshin space station. The series will consist of six episodes and will be distributed worldwide!
Staff: Creator, Writer & Director: Mitsuo Iso (Coil a Circle of Children) Character Design: Kenichi Yoshida (Eureka Seven, Gundam Reconguista in G)# Lead Animator: Toshiyuki Inoue (Coil a Circle of Children, GHOST IN THE SHELL Art Director: Yasuke Ikeda Color Design: Miho Tanaka Music: Rei Ishizuka Sound Director: Yoji Shimizu Production: Production +h
In Sternbild City, people of all races and ethnicities live alongside humans with superhuman abilities called NEXT, who use their NEXT abilities to maintain peace. Heroes wear sponsor logos, help solve crimes and save people in order to improve the image of their companies and acquire hero points. Their activities are broadcast on the popular show "Hero TV," where the heroes try to climb the annual rankings and aim to be the "King of Heroes." Kotetsu T. Kaburagi and Barnaby Brooks Jr. continue their hero activities to boost the image of their company, Apollon Media, as well as maintain peace. The hero system that originated in Sternbild City has now been adopted in places around the world. As more and more heroes appear, a new hero enters Sternbild City. Now that they are more veteran heroes, will Kotetsu and Barnaby be able to live up to the expectations put on them?!
Staff: Director: Mitsuko Kase Series Composition, Write & Story Director: Masafumi Nishida Character Design & Hero Design: Masakazu Katsura Developed, Produced, and based on the work of: BN Pictures
Cast (Japanese): Kotetsu T. Kaburagi (WILD TIGER): Hiroaki Hirata Barnaby Brooks Jr.: Masakazu Morita Karina Lyle (BLUE ROSE): Minako Kotobuki Antonio Lopez (ROCK BISON): Taiten Kusunoki Huang Pao-Lin (DRAGON KID): Mariya Ise Nathan Seymour (FIRE EMBLEM): Kenjiro Tsuda Keith Goodman (SKY HIGH): Go Inoue Ivan Karelin (ORIGAMI CYCLONE): Nobuhiko Okamoto
Detective Conan Titles – Global Premiere Date: Coming Soon
Detective Conan: The Culprit Hanazawa (Spin-off of the original manga by Gosho Aoyama, written and illustrated by Mayuko Kanba)
A town of crime, Beika Town. A mysterious Dark Shadow descends onto this town that ranks among the highest crime rates in the world. His (or her?) goal is to kill a "certain man." That key player in Detective Conan is now a protagonist! Clad in tights and possessing a pure intellect, this person's name is… the (pseudonymous) Culprit Hanazawa!
Detective Conan: Zero's Tea Time (Supervised by original author, Gosho Aoyama. Original manga by Takahiro Arai)
Sometimes he is the famed detective Kogoro Mori's younger brother, Toru Amuro. Other times he is Rei Furuya, a police officer protecting Japan. Still other times he is Bourbon, a man clad in black. No one knows the private life of the man who wears three faces…or so it was thought. The simple everyday life of Toru Amuro, a man cloaked in light and shadow, is revealed here.
AGGRETSUKO Season 4 – Global Premiere Date: December 16, 2021 www.netflix.com/aggretsuko
Frustrated with her thankless office job, Retsuko the Red Panda copes with her daily struggles by belting out death metal karaoke after work. After becoming an underground idol to pay off her debts, Retsuko decides to quit OTMGirls and enjoy living a happy, normal life… but just as the company she works for is facing big changes, her relationship with Haida finally begins to move.
Staff: Original character by: Sanrio Directed and screenplay by: Rarecho Animation Production: Fanworks
Kotaro lives alone- Global Premiere Date: Coming in 2022 www.netflix.com/KotaroLivesAlone
Ding-dong! There is a little boy standing at the door. He hands over a nice box of tissues as a gift and says, "My name is Sato, and I have just moved in to number 203. Pleased to make your acquaintance." He is Kotaro Sato, and he has moved into Shimizu Apartments to live by himself. He is four years old. He makes his daily shopping trips alone with a toy sword strapped to his side. Both grown-up and childish at the same time, Kotaro starts to affect the people around him with his wise ways. This is the story of a four-year-old boy who is determined to live strong until the day he can live with his parents.
Staff: Based on the manga Kotaro Lives Alone (published by Shogakukan in Big Comic Superior) by Mami Tsumura Director: Tomoe Makino Character Design: Tomomi Kimura Composition: Hiroshi Satо
Cast: Kotaro – Rie Kugimiya Karino – Toshiki Masuda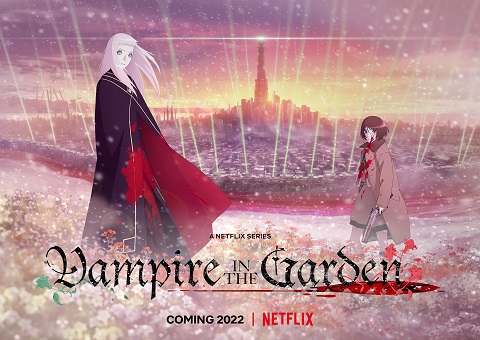 Vampire in the Garden- Global Premiere Date: Coming in 2022 www.netflix.com/Vampire_in_the_Garden
One cold winter, humanity lost its battle with the vampires, and with it, most of where they called home. A small population of survivors created a wall of light in a small town to protect them and give them a place to live in peace. The protagonist, Momo, lives a repressed life but still wishes to coexist with the enemy, the vampires. Fine, the vampire queen, once loved humans and disappeared from the battlefield. As war rages through the humans' town, the two have a fateful encounter. Once upon a time, humans and vampires lived in harmony in a place called Paradise. This is the story of a young girl and a vampire on a journey to find Paradise.
Staff: Director: Ryoutarou Makihara (Hal, The Empire of Corpses) Assistant Director: Hiroyuki Tanaka (Attack on Titan) Character Design/Supervising Director: Tetsuya Nishio (Naruto, The Sky Crawlers) Art Setting: Satoshi Takabatake, Kazushi Fujii Music: Yoshihiro Ike Animation Production: WIT STUDIO
Cast: Momo – Megumi Han Fine – Yu Kobayashi
ULTRAMAN Season 2 – Global Premiere Date: Coming 2022 www.netflix.com/ultraman
Several years have passed since the events of Ultraman, with the legendary "Giant of Light" (光の巨人 Hikari no Kyojin) now a memory, as it is believed he returned home after fighting the many giant aliens that invaded the Earth. Shin Hayata's son Shinjiro seems to possess a strange ability, and it is this ability, along with his father's revelation that he was Ultraman, that leads Shinjiro to battle the new aliens invading the Earth as the new Ultraman.
Staff: Based on a comic by: Tsuburaya Production, Eiichi Shimizu & Tomohiro Shimoguchi Directors: Kenji Kamiyama & Shinji Aramaki Music: Nobuko Toda & Kazuma Jinnouchi Production: Production I.G. & SOLA DIGITAL ARTS
Rilakkuma's Theme Park Adventure – Global Premiere Date: Coming 2022
Rilakkuma's new animated series Rilakkuma's Theme Park Adventure takes to the screen in 2022! This new stop-motion animation series is written by Makoto Ueda and Takashi Sumita of the theater troupe Europe Kikaku. This series is produced by Dwarf, directed by Masahito Kobayashi of the same studio, and produced by San-X. In addition to Kaoru (voiced by Mikako Tabe), who first appeared in Rilakkuma and Kaoru, Rilakkuma, Korilakkuma, and Kiiroitori go to play at a theme park that is about to close. There, they encounter many events and meet different people in this eight-episode series of 15-minute episodes depicting their active daily lives.
Staff: Director: Masahito Kobayashi (Dwarf) Screenplay: Takashi Sumita, Makoto Ueda (Europe Kikaku) Production: dwarf studios, xpd Inc. Production: San-X Co., Ltd. For additional information and materials, including for already announced titles, please visit the Netflix Japan Festival 2021 – Digital Press Kit.
NETFLIX JAPAN LIVE ACTION TITLES: Newly announced projects, news and released assets: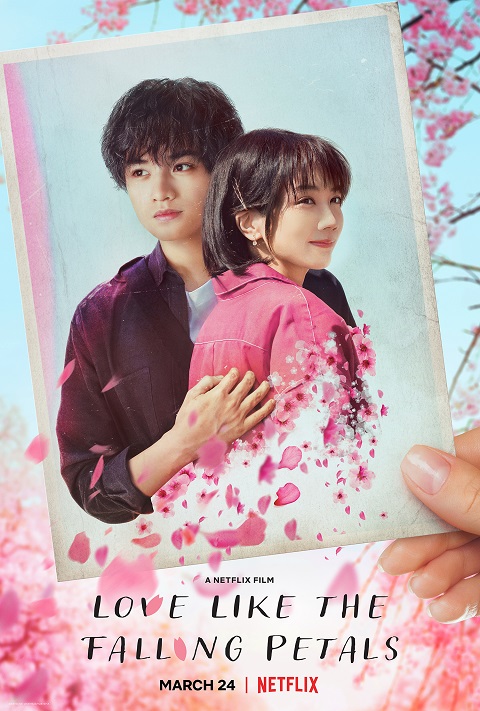 Love like the falling petals (Film)- Global Premiere Date: March 23, 2022 www.netflix.com/lovelikethefallingpetals
Haruto, an aspiring photographer, falls head over heels for his hair stylist Misaki. When he finally finds the courage to ask Misaki out, it seems to be happily ever after for the young couple… until Misaki develops a rare disease under which she rapidly ages before their eyes.
Cast & Crew: Based on: The original novel "Sakura No Yona Boku No Koibito" by Keisuke Uyama published by Shueisha Bunko Cast: Kento Nakajima/Honoka Matsumoto Director: Yoshihiro Fukagawa Screenplay: Tomoko Yoshida Cinematography: Hiroo Yanagida Production Design: Kimie Kurotaki Executive Producer: Shinichi Takahashi (Netflix) Producer: Kei Haruna (Hakuhodo DY Music & Pictures Inc.), Takahiro Kawada (Toho Studios) Production: Toho Studios
Alice in Borderland s2 (Series)- Global Premiere Date: 2022 www.netflix.com/aliceinborderlad
S1 Synopsis: Arisu – a listless, jobless and video-game-obsessed young man – suddenly finds himself in a strange, emptied-out version of Tokyo in which he and his friends must compete in dangerous games in order to survive. In this strange world, Arisu meets Usagi, a young woman who's navigating the games alone. Together, they set out to unravel one mystery after another as they risk their lives and confront what it means to live. Alice in Borderland is based on a survival and thriller manga (originally published in Weekly Shonen Sunday S / Weekly Shonen Sunday) by HARO ASO, directed by Shinsuke Sato and co-starring Kento Yamazaki (Kingdom, The Disastrous Life of Saiki K) and Tao Tsuchiya (Library Wars: BOOK OF MEMORIES, Mare).
S1 Cast & Crew: Based on: The original graphic novel "Alice in Borderland" by Haro Aso (published in Shonen Sunday Comics by Shogakukan) Director: Shinsuke Sato CAST: Kento Yamazaki & Tao Tsuchiya, Nijiro Murakami, Yuki Morinaga, Keita Machida, Ayaka Miyoshi, Dori Sakurada, Aya Asahina, Shuntaro Yanagi, Yutaro Watanabe, Ayame Misaki, Mizuki Yoshida, Tsuyoshi Abe, Nobuaki Kaneko, Sho Aoyagi, Riisa Naka Writers: Yoshiki Watabe, Yasuko Kuramitsu and Shinsuke Sato Music: Yutaka Yamada Cinematographer: Taro Kawazu Production Designer: Iwao Saito Action Director: Yuji Shimomura VFX Supervisors: Makoto Kamiya, Atsushi Doi Executive Producer: Kaata Sakamoto Producer: Akira Morii Production Company: ROBOT
First Love (Series) – Global Premiere Date: 2022 www.netflix.com/firstlove
A cross-generational love story inspired by "First Love"(1999) and "Hatsukoi"(2018), two seminal songs by Hikaru Utada. Two teenagers fall in love for the first time in the late 90s; two decades later, one is about to get engaged, while the other is divorced with a teenage son who's falling in love for the first time.
Cast & Crew: Inspired by songs written and composed by Hikaru Utada Cast: Hikari Mitsushima/Takeru Satoh/Rikako Yagi, Taisei Kido Director, Writer: Yuri Kanchiku Executive Producer: Kaata Sakamoto (Netflix) Producer: Kasumi Yao Production Company: C&I entertainment Inc. Created, Developed and Produced by: Netflix
Yu Yu Hakusho (Series) – Global Premiere Date: December 2023 www.netflix.com/yuyuhakusho
Based on the legendary manga by Yoshihiro Togashi originally serialized in Weekly Shonen Jump for four years from 1990 and published by Shueisha, the story revolves around Yusuke Urameshi, who spends his days getting into fights and dies in an accident while trying to protect a young child. As he grapples with the fact that he is looking down on his dead body, a woman named Botan who calls herself a guide to the spirit world relays to him the shocking truth: no one expected a delinquent like Yusuke to die performing an act of goodness, and there was no place for him in either heaven or hell. Thus, Yusuke is given a chance to be revived, and after passing his trial, he becomes an Underworld Detective. From there, Yusuke becomes entwined in a mystery that envelopes the human, demon and spirit worlds.
Cast & Crew: Based on the manga Yu Yu Hakusho by Yoshihiro Togashi (published by Jump Comics, Shueisha) Executive Producer: Kaata Sakamoto (Netflix) Producer: Akira Morii Production Company: ROBOT COMMUNICATIONS INC. Developed and Produced by: Netflix
Once Upon a Crime (Film) – Global Premiere Date: Coming Soon www.netflix.com/onceupconacrime
Akazukin, Tabi no Tochu de Shitai to Deau (Futabasha) is a classic mystery book by Aito Aoyagi set in the world of fables and fairy tales that everyone knows. The novel is a bold story that follows Little Red Riding Hood as she hunts criminals who commit crimes in famous fairy tales such as Cinderella and Hänsel and Gretel, and it gained popularity for its sophisticated mystery-solving turns and twists. Now adapted into film by director Yuichi Fukuda, the creator of hit comedies!
Cast & Crew: Based on the novel Once Akazukin, Tabi no Tochu de Shitai to Deau by Aito Aoyagi (published by Futabasha) Director: Yuichi Fukuda Executive Producer: Shinichi Takahashi (General Manager of Netflix Content Acquisition)' Producer: Shinzo Matsuhashi (CREDEUS Inc.) Developed by Motoi Sasaki Produced by the Once Upon a Crime Production Committee Production: CREDEUS Inc.
Queen of Villains (Series) – Global Premiere Date: Coming Soon www.netflix.com/queenofthevillains
In the golden era of 1980s Japan women's wrestling, Dump Matsumoto went from nearly being fired to becoming the most famous heel in the history of Japanese pro wrestling. But her success jeopardizes her friendships with fellow wrestlers and makes her a target of vicious fans. Having turned the entire nation against herself, where will she go from here?
Cast & Crew: Developed, Written and Produced by: Osamu Suzuki Director: Kazuya Shiraishi Executive Producer: Shinichi Takahashi (Manager at Netflix Content Acquisitions)
Love is Blind: Japan (Unscripted Series) – Global Premiere Date: February 2022 www.netflix.com/loveisblindjapan
Love is Blind is the Netflix's American unscripted series where singles who want to be loved for who they are, rather than what they look like, have signed up for a less conventional approach to modern dating where they hope to meet the person they want to spend the rest of their lives with… without ever having seen them. The show was nominated for 2 Primetime Emmys including Outstanding Structured Reality Program With no distractions from the outside world, the singles talk to a stream of potential love interests and when back in the real world, as the couples plan towards their wedding day, they will quickly discover whether they can turn their emotional connection into a true love before the fast-approaching ceremony. Takashi Fujii and Yuka Itaya will be navigators for Love is Blind: Japan and see how the social experiment goes on.
Cast & Crew: Navigator: Takashi Fujii and Yuka Itaya Director: Akira Oshima, Kazuki Ikeda Production: TV Man Union Producer: Mitsuko Kobayashi, Yu Takemura Cinematography: Eiji Yamada Art: Nouvelle Vague Executive Producer: Taro Goto (Netflix)
Last One Standing (Unscripted series) – Global Premiere Date: March 2022 www.netflix.com/lastonestanding
Comedy duo Chidori host and participate in this survival talk show. Participants will engage in talk battles to move on to the next stage. Popular comedians will join Daigo of comedy duo Chidori as they appear in authentic dramas supported by strong actors. However, a portion of the script is unscripted, and the cast is tasked with sharing their stories in their own words. If the contestants are unable to fill these gaps with true and funny anecdotes from their real lives, they are eliminated. Who will have the funniest story? As contestants are eliminated one after another, who will be the last comedian standing? And what will be the shocking ending to this drama?!
Cast & Crew: Cast: Chidori Executive Producer: Shinichi Takahashi (Netflix) Developed and Produced by: Nobuyuki Sakuma Production: Nobuyuki Sakuma Agency Produced by: Netflix
Toma Ikuta Documentary (Documentary) – Global Premiere Date: Spring 2022 www.netflix.com/tomaikuta
Toma Ikuta and Matsuya Onoe were classmates back in their high school and have been close friends. In their high school days, the two promised that they would stand on the same stage some day. And for the final stage of Onoe's produced kabuki stage series, Ikuta will star as a special guest in his first ever time to perform kabuki. This documentary follows Ikuta's challenge and his friendship with Matsuya Onoe.
Cast & Crew: Cast: Toma Ikuta and Matsuya Onoe Director: Takeshi Aizawa Executive Producer: Julie K. Fujishima, Naomi Sato (Netflix)
Gundam (Film) – Global Premiere Date: Coming Soon
The story for the live-action film version of Gundam is being kept under wraps but the original Gundam series is set in the Universal Century, an era in which humanity's growing population has led people to emigrate to space colonies. Eventually, the people living in the colonies seek their autonomy, and launch a war of independence against the people living on Earth. Through the tragedies and discord arising from this human conflict, not only the maturation of the main character, but also the intentions of enemies and the surrounding people are sensitively depicted. The battles in the story, in which the characters pilot robots known as mobile suits, are wildly popular. The Gundam universe is replete with numerous story lines of love and conflict along with the popular Gundam battles, in which the characters operate robot suits called Mobile Suits.
Cast & Crew: Director: Jordan Vogt-Roberts Writer: Brian K. Vaughan Producers: Mary Parent, Cale Boyter, Naohiro Ogata Executive Producers: Jordan Vogt-Roberts, Brian K. Vaughan, Makoto Asanuma Production: Legendary Entertainment, Sunrise The project is based on original work by Yoshiyuki Tomino and Sunrise
📆 Winter 2023 TV Schedule + Streaming Shows Release Dates Calendar
When does your favorite show come back on? Check it out on our winter release dates guide.
January 2023 Release Dates are here!